Metal Frame Side Chairs
In Stock
£66.00 per product ( choose size and colour for final price)
In order to give you the best prices these chairs are only available in quantities of 4 or more
Look no further for a robust, practical choice for waiting areas, meeting rooms and receptions. Ideally priced to make your budget go further and generously upholstered for comfort.
A generously upholstered side chair on a 25mm heavy gauge steel frame
Available with or without arms
Seat height 440mm
In order to give you the best prices these chairs are only available in quantities of 4 or more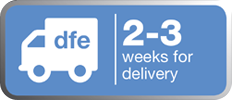 Only logged in customers who have purchased this product may leave a review.