Enviro Classroom Tables
In Stock
£129.00 per product ( choose size and colour for final price)
These premium quality tables have silver anodised legs and frames and wipe-clean laminate tops with contrasting ABS edge to suit any classroom or library. Lighter in weight than most other tables but retaining strength and durability needed for the classroom.
The ultimate classroom table!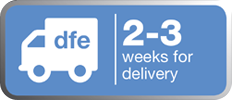 Sizing Chart

Only logged in customers who have purchased this product may leave a review.