Jewel Table
In Stock
£208.00
In order to give you the best prices we can only offer these tables in quantities of 3 or more (3 tables make up a full hexagonal table)
Stylish modular tables with ultimate versatility with duraform PU edge. Comes in many lovely colours to fit into whatever room you need, as well as being able to go together in various shape configurations.
In order to give you the best prices we can only offer these tables in quantities of 3 or more (3 tables make up a full hexagonal table)
View the other tables in this range here:
 Connect Table
,
Leaf Table
,
Equation Classroom Tables 
and the
Segga Table
.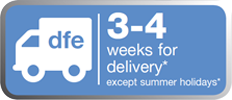 Sizing Chart

Only logged in customers who have purchased this product may leave a review.